Welcome to Hartland Farms Intermediate!
School News
Please do not park and wait for your child in the last aisle of the parking lot. This aisle is the only open aisle for traffic leaving the parking lot. Cars have been parking here and also blocking in cars that are parked in the aisle. If there are no spots available in the pick-up line, you should be parking in a parking spot and walking to the sidewalk to pick up your child.

Students AT NO TIME should ever be walking through the parking lot without an adult with them. A Parent needs to sign in any students who are not in their classroom by 8:45 AM, and sign out any students needed for early dismissal. Thank you for helping to keep our students safe.
IMPORTANT INFORMATION & DATES:
* Farms benefits from the Krogers Community Rewards Program. A percentage of the sales at Kroger goes directly to Farms each year. Please become a member and list Farms as your school. Go to www.krogercommunityrewards.com and start an account! Thanks for your support!
* M-STEP testing will begin April 11th for 5th Graders, and April 27th for 6th Graders.
*
6th Grade Parents
- There will be a 7
th
Grade Parent Orientation on
Wednesday, May 11th 6:00-7:00 pm at Ore Creek.
****************************************************************************************************************************
LOC Federal Credit Union will be here at Farms on Thursday mornings 8:45 - 9:20 a.m.
LOC has a great program here at Farms which students help run.
For more information, see the download below.
Mission Statement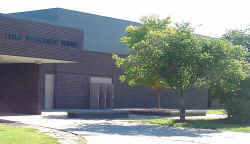 The Farms Intermediate TEAM, in cooperation with the community, is committed to meeting the unique intellectual, emotional, social and physical needs of our students. We will ensure a safe, positive atmosphere that promotes life-long learning, a respect for diversity, responsibility for self, and concern for others.